Introduction to Emseal Products & Systems
Emseal products and systems allow virtually tailor-made joint sealing solutions for all types of buildings and civil engineering projects, suitable for both new construction and refurbishment works. This has included bespoke jointing solutions for the retrofitting of many complex movement joint situations where the traditional, mechanically fixed joint sealing systems have failed, even in short periods of time.
Emseal systems are preformed and bonded into position within the joints and so there is no need for any intrusive mechanical fixings, with all their associated additional time, cost and also very importantly, without causing any potential damage to the structure – Emseal provide quick, clean and simple solutions to almost all standard and many specific difficult and often complex movement joint sealing requirements.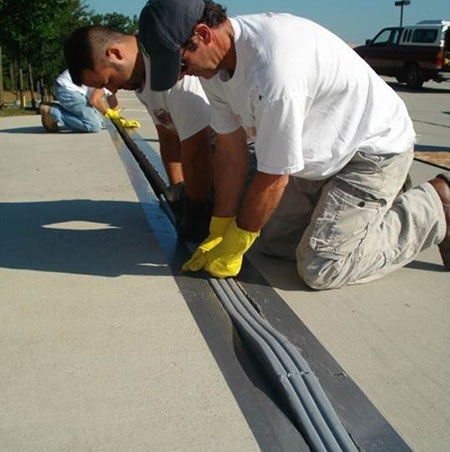 Designing, detailing and then installing the right kind of movement joints correctly is therefore vitally important for all types of buildings and civil engineering structures. It has been very clearly referenced from our extensive experience in North America, plus our more recent experience in the UK and elsewhere, the problems arising from issues with movement and expansion joints are responsible for a hugely disproportionate amount of building repair and refurbishment costs.
Emseal Movement Joint Systems are designed to ensure that these types of expansion joints are not only watertight, but also that they can be fully resistant to whatever other simultaneous exposure is required.
Expansion Joint Continuity of Seal — Watertight by Design
We've said it in our technical articles and CPD Workshops many times before: "Anyone (well almost anyone), can make an expansion joint watertight in cross-section. It's always at the changes in plane and direction that they leak."
Emseal's process, from design to completion, is built around our Checklist Approach and what we call "Continuity of Seal." This simple principle ensures that joints don't leak at transitions within and between adjacent surface joints, joint transitions and different elements of the structure, or different joint sealing technologies. This comprehensive approach ensures that Architect, Engineer, Main Contractor, Joint System Manufacturer and Specialist Installation Contractors (where appropriate), are all on the same page when it comes to executing the works on site, and that installation is practical as well as 'fine on paper'.
NCC are your reliable source of joint sealing solutions, and we provide full assistance all along the project chain, with support from the Design Office, right through to successful installation on site. This includes 3-D detailing with standard and bespoke CAD detailing support (Free CAD Design Service), BIM Specifications, Contractor Estimation Support & Training, factory produced Prefabricated Sections and Details - such as for T-junctions, horizontal to vertical joint systems and many other complex transitions. All of which is geared to help owners and their professional teams in delivering a leak-free, resilient, sustainable and durable expansion joint sealing solution for all types of facilities, buildings and civil engineering structures. In this example the Emseal Colorseal system comes up the wall, is connected to the underside of Emseal RoofJoint with a factory produced prefabricated Seismic Colorseal to RoofJoint Closure. The reflective white Emseal RoofJoint features a factory-welded, reinforced, leak-tested, outside 90° downturn that marries precisely to the Emseal RoofJoint Closure. On the roof deck, the Emseal RoofJoint features a deck-to-wall flashing sheet on the vertical plane surface that has been welded into a vertical "boot" to receive the intersecting Emseal Seismic Colorseal in the adjacent wall.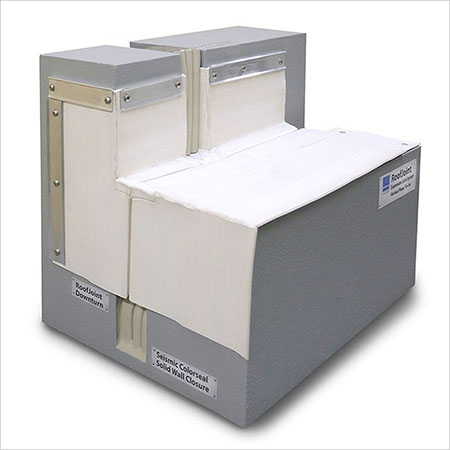 Expansion Joint Continuity of Seal RoofJoint Mockup
"When does this level of complexity really happen?" you might ask – Certainly more often than you think we can tell you! The real question to be answered on almost every project is, "how will you ensure watertightness at every plane and direction change, and between different joint sealing systems and materials technologies?" We think we will have the answer, you just need to ask NCC.
You can easily contact us by calling 01257 266696, alternatively you can email your questions and requirements to us at technical@emsealservices.co.uk For refurbishment and retrofitting projects pictures are always useful in our initial assessment – Every picture tells a story!
There is also a lot of additional information here on the Corporate Emseal