Where Are Wide and / or High Movement Joints Used?
This is a graphic of a typical modern Sports Stadium and its surrounding support facilities, with commercial developments such as for retail, and the necessary infrastructure for services and access with parking or stations etc. The graphic can be used to provide an overview of the location and the variety of locations, on all types of buildings and civil engineering structures, where wider and/or high movement capability expansion joints maybe required. As shown, these can include both vertical and horizontal joints, vertical joints for the main stadium and support building façades, horizontal joints for the podium and car parking decks, elements of the roof structure, and both for any necessary submerged / below ground joints and for specialist structures and design elements such as the stadium bowl movement joints and the bridge deck expansion joints etc.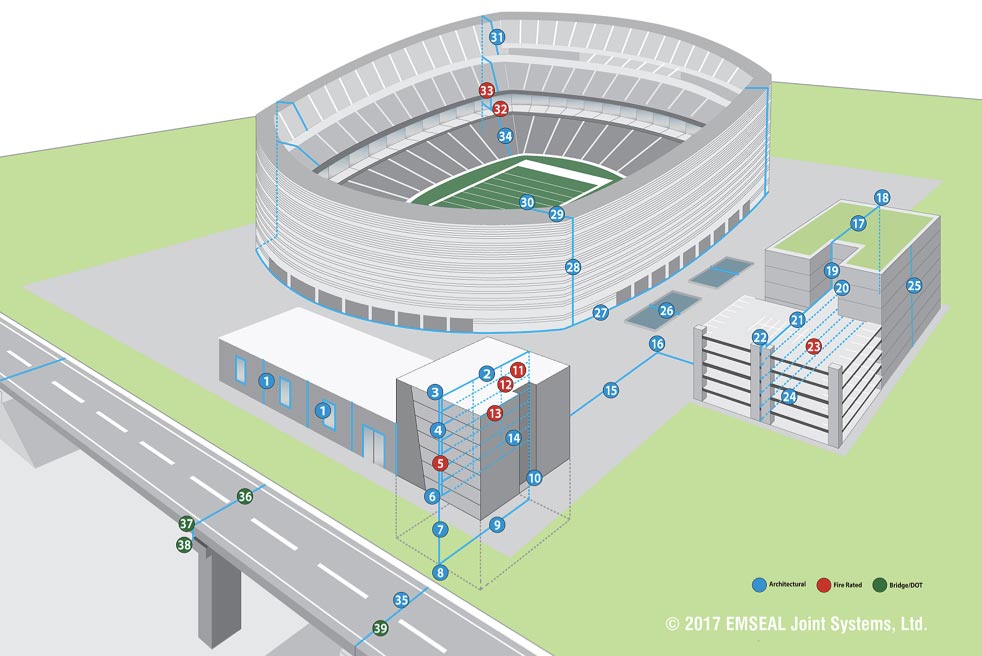 Graphic Representation of Movement Joints in Typical Structures
Where are these wider and/or higher movement joints used?
in all the interior and exterior elements of the structures
in and / or between the different structural elements and different building materials
vertically and horizontally
throughout the whole building envelope - everywhere that movement is required!
These wide and /or high movement expansion joints can therefore have many things in common, such as the joint movement capability required and the need for watertightness. Then there can be many other demands and specific combinations of more individual requirements, such as to provide fire resistance, direct vehicular trafficking resistance etc., all of which are dependent and according to the joint's location and function. The complexity and individuality of all of this has the consequence that there are no established and accepted national or international standards for such wider and / or higher movement joints – and there are unlikely to be any at any point soon!
There are of course, some specific, special purpose / special structure types of movement joints such as bridge deck expansion joints, which are able to be standardised and, in the UK, these must comply with Highways Agency Guidelines CD 357.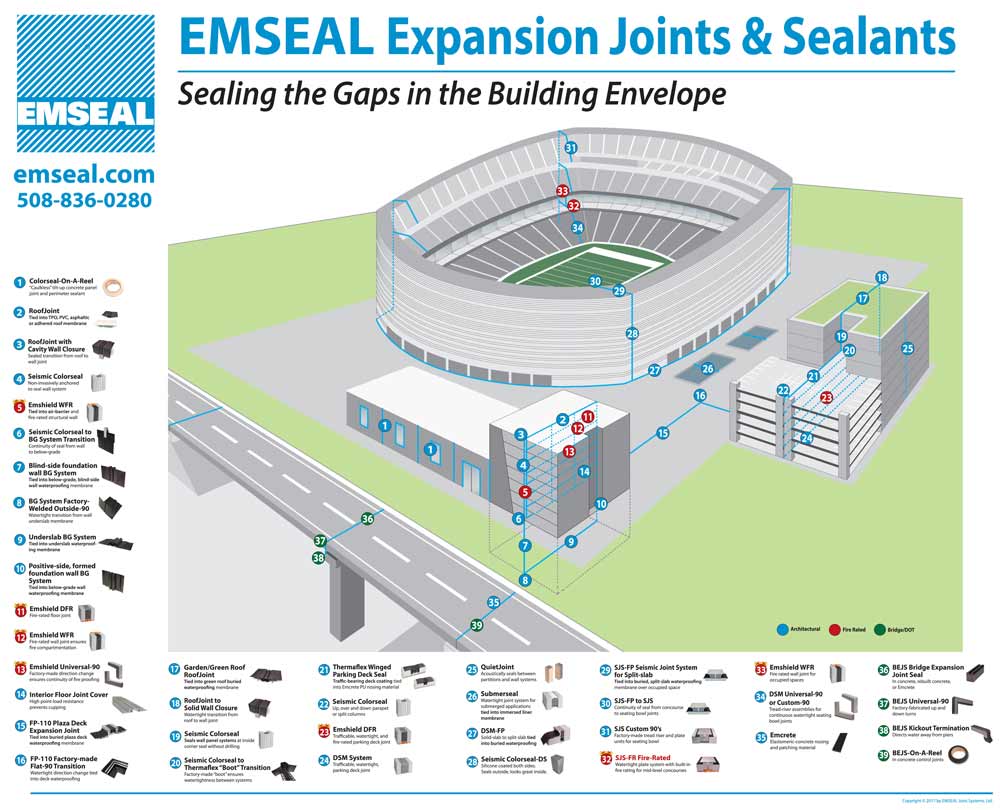 However, in most new build situations and in almost all refurbishment situations, the specification, detailing and installation of the most technically correct, most cost effective and therefore the most appropriate joint sealing system, is likely to require almost a bespoke solution to avoid future problems. This is the key advantage of using Emseal joint systems as they can be effectively customised and bespoke for your specific engineering and commercial requirements.